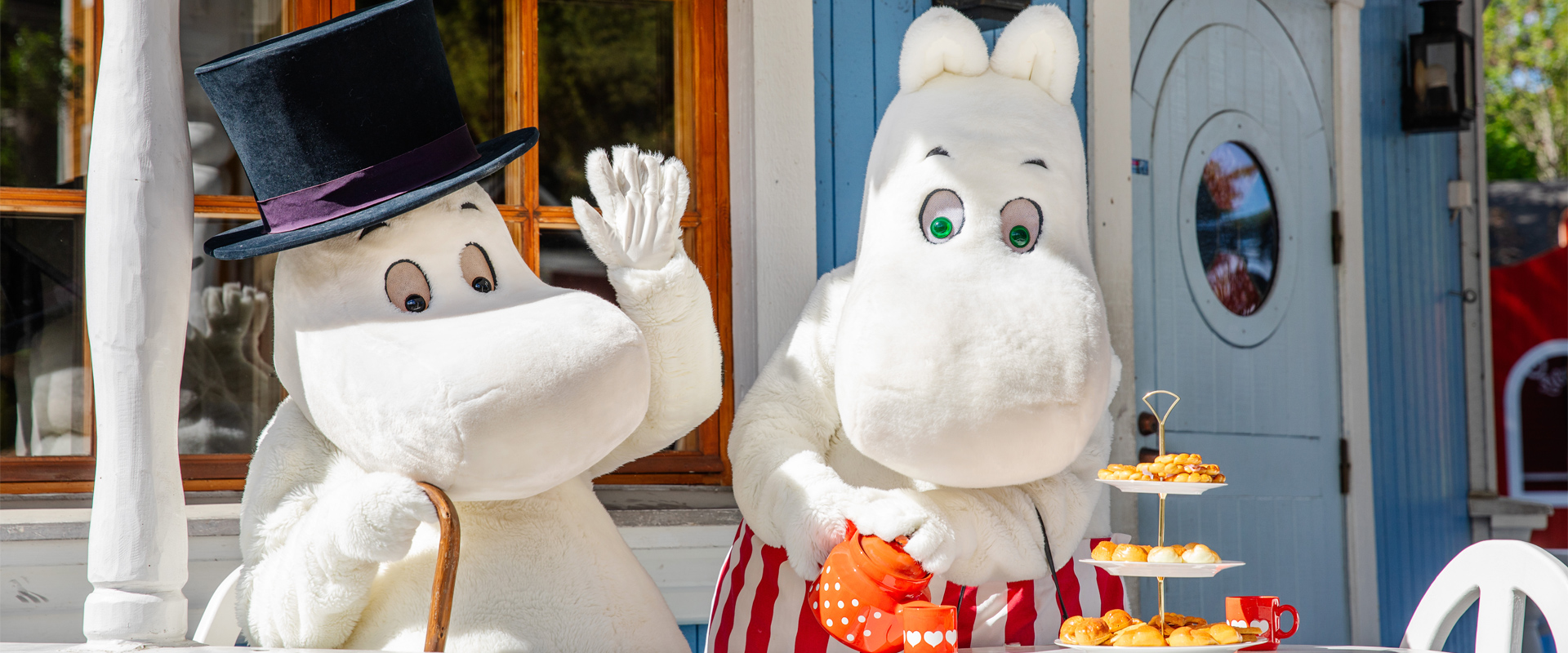 Arrival
Moominworld is located in Naantali on the south-west coast of Finland, about 16 kilometres from Turku and 180 kilometres from Helsinki. How are you getting there? Choose one of the options below for arrival instructions. Instructions related to Covid-19 for passengers arriving in Finland can be found at https://www.turku.fi/en/arrivals
Drive first towards Turku and follow the road signs towards Naantali and the Moomin Car Park. The Moomin Car Park is located by the road leading to Naantali, about 2 km away from Moominworld. If you're using a navigator, the address is Tuulensuunkatu 12, Naantali. The Moomin Car Park is reserved for visitors to Moominworld, at the price is EUR 12 per day, or with advance online booking EUR 10 per day. You can pay for your parking by cash or by card – the ParkMan and EasyPark apps are also available. The price includes bus rides to and from Naantali Old Town. The Moomin buses run throughout the summer season during Moominworld's opening hours. There's a walk of a few hundred metres from the bus stop to the Moomin island. Please note that the Moomin Car Park payment is only valid in the Moomin Car Park and does not cover other parking places in Naantali. Route planner »
Buses to Turku Timetables for buses to Turku can be found here. Local buses between Turku and Naantali You can travel from Turku to Naantali on local buses 6 and 7, which depart around every fifteen minutes. The buses depart from stops near the Turku Market Square. Bus timetables are available at https://www.foli.fi/en.
You can get to Turku by train from Helsinki and Tampere. More information on routes and timetables is available at https://www.vr.fi/en.
If you're arriving by boat, the beautiful Naantali guest harbour is located right next to Moominworld. There are even some moorings right by the bridge leading to Moominworld. More information: https://www.naantalinvierasvenesatama.fi/english
Ukkopekka takes you from Turku to Naantali Old Town by sea. Enjoy a beautiful scenic voyage through the archipelago. The voyage takes around two hours each way. You can also choose to travel on Ukkopekka only in one direction and take the other journey, for example, by bus. More information on departures, timetables, prices and other matters is available on the Ukkopekka website or by calling +358 2 515 3300.
Book in advance your taxi transfer from Turku area to Moominworld and back. Check the details at http://meneva.fi/moominworld.