Favourite
To everyone's taste!
Mamma's Kitchen
After eating in Mamma's Kitchen, everyone will have a tummy full of healthy and delicious food! Organic and local ingredients are well represented in our selection. You can easily purchase the buffet in advance online. 
Opening times:
11.6.–30.6. at 11.30–16.00
1.7.–31.7. at 11.00–16.00
1.8.–21.8. at 11.30–16.00
"

All things fun are good for your tummy.

"

– Moominmamma
Lunch buffet
Adults EUR 16.20 | Children 1–3 years EUR 3.90 | Children 4–12 years EUR 6.90 | Salad buffet EUR 12.90
Lunch includes several main dish options, a plentiful salad bar, selection of breads and a coffee coupon. You can get your coffee from any open coffee serving point! Kitchen will be closed about 15 minutes before the restaurant closes. Dishes marked with ** can be found from a separate table for special diets. Gluten-free dishes are prepared in the same premises with other dishes.
L lactose-free | G gluten-free | M dairy-free | Veg vegan | * contains allergens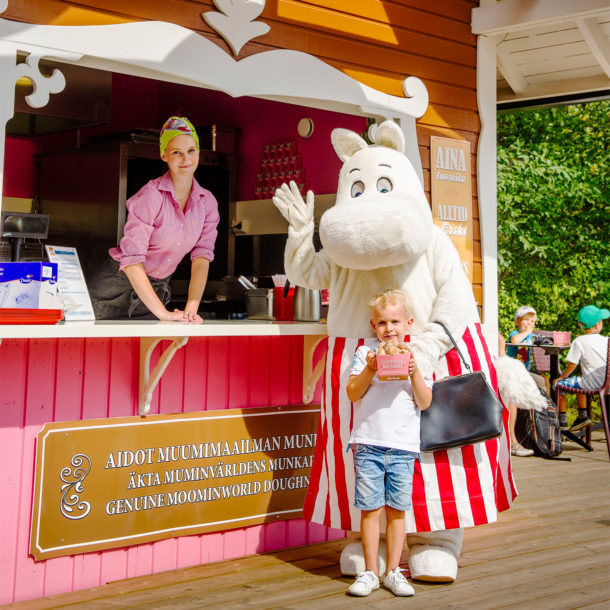 Moomin­mamma's Doughnut House
Moominmamma's Doughnut House serves tasty fresh doughnuts as well as coffee, tea, and soft drinks.
Read more »